Recipe Image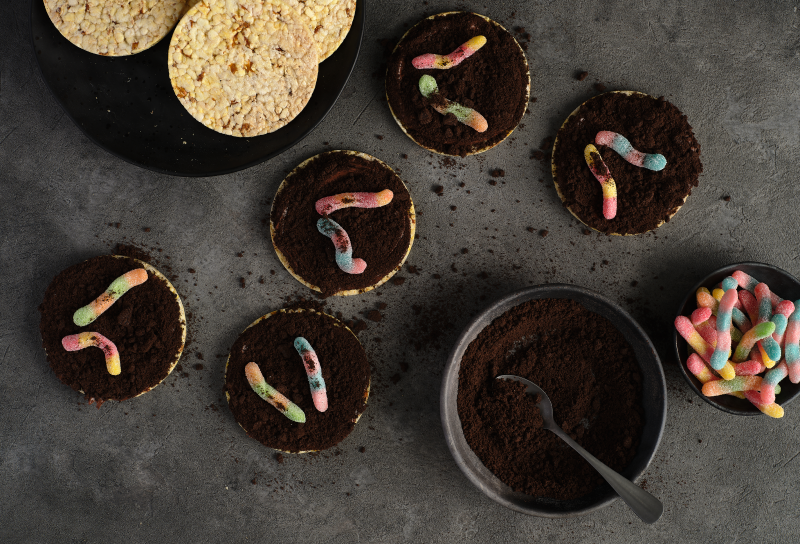 Directions
To make the chocolate dirt
1) Preheat the oven to 160 C (320F)
2) Break up the 12 CORN THINS slices and place into a blender. Blend the CORN THINS slices till they are the consistency of flour. Move CORN THINS flour to a medium bowl and mix with the cocoa powder
3) In a paddle mixer place the butter and sugar and mix on a medium to high speed till the mixture is light and fluffy, then reduce the speed and slowly mix in the vanilla.
4) Slowly add Corn Thins flour/cocoa mix to butter/sugar mix in the mixer (a bit at a time to ensure thorough mixing). Finally add the salt and keep mixing for another 1 -2 minutes to ensure well mixed and dough comes together.
5) Place the dough between 2 sheets on baking paper and use a rolling pin to press/roll out till about 1/ to 1/2 cm thick. Then place in the preheated oven and bake for about 8-9 minutes
6) Remove from the oven and rake the partly cook dough with a fork to break up the dough and form medium clumps
7) Return to the oven and back for about 8 more minutes, then again rake to form even smaller pieces. If you want a finer sand/dirt, either manually break the crumb further with the back of a spoon, or do a short blend in the blender. As the crumb cools it should become more crisp.
To Make Halloween Snack
Spread a tsp of Nutella across each CORN THINS slice, then add a generous amount of chocolate sand. Finally add a couple of sour worms.
Ingredients
12 CORN THINS slices to make the dirt
60g Butter
50g of Granulated sugar
1/2 Tsp of vanilla extract
51/2 Tbs of cocoa powder
1/2 tsp fine sea salt
12 - 20 CORN THINS slices as the base for the snack (depends on how generous you are with the dirt)
Nutella
Bag of Sour worms
Still Hungry?
 Still Hungry, then why not try something else. Check what is in your fridge or pantry, or view any of our other CORN THINS recipes for some  tasty ideas.