Round Up of the first 3 Month's Recipes of The Month from Our Dietitian
2020-07

Did you miss any of our Dietitian's recipe of the month? No need to fret as we have put together the months of March to June right here for your reference!
Recipe of the Month: March
Cottage cheese, Blueberries, Walnuts and Cinnamon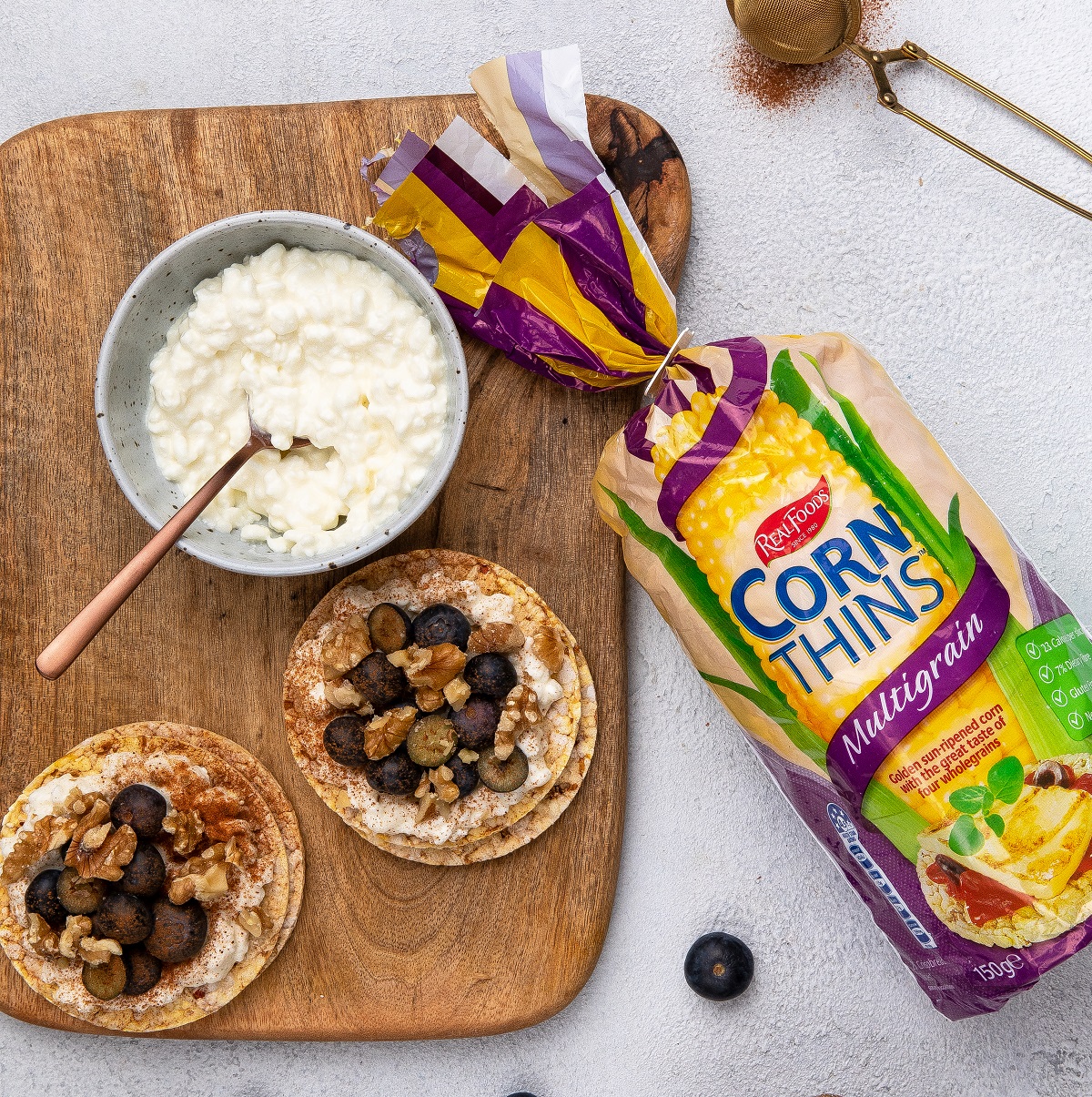 https://www.cornthins.com/en/node/57145
This delicious breakfast will give your taste buds and brain a boost. Starting with the star of the meal - CORN THINS slices are a great whole grain source. This means more fibre, vitamins, and minerals to your body like B vitamins which help to create energy from the food you eat. The walnuts provide a plant source of omega 3 fat called alpha linoleic acid. Omega 3 fat plays many important roles in your body from optimising your brain, heart, and artery health to making sure your vision stays sharp. The protein in the walnuts and cottage cheese will help build and repair all the cells in your body. Protein also helps to keep you feeling fuller for longer. Cottage cheese provides calcium to your body, needs for strong bones and teeth as well as normal muscle contractions.
Cinnamon adds a great alternative to sugar but also has antifungal and viral properties. It is also full of antioxidants to fight off free radicals which damage and cause disease to the cells of your body. Adding to the antioxidants is the delicious blueberries. An antioxidant to mention here is the anthocyanidins which help reduce your risk of heart disease. These berries are a great source of vitamin C to keep your immune system working normally as well as fibre to keep the munchies at bay. This recipe of the month is a must try for your next breakfast.
Recipe of the Month – April
Roast Pumpkin, avocado, black bean and coriander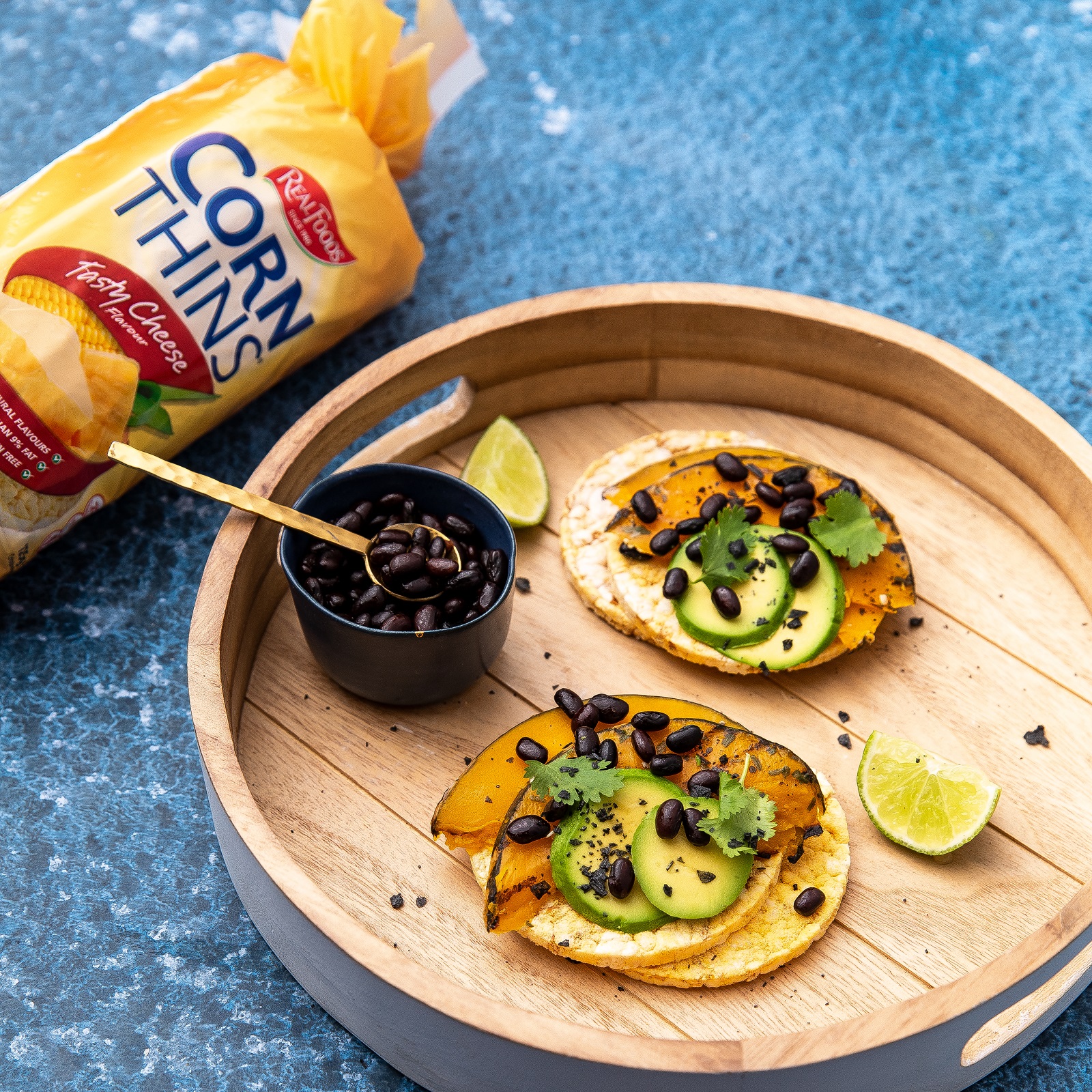 https://www.cornthins.com/en/node/57199
Your body will thank you for selecting this perfect balance of taste and nutrition. T
he whole grain star CORN THINS slices add fibre for fullness in addition to vitamins and minerals your body needs to function well, including iron, zinc, B vitamins, manganese, magnesium, phosphorus, and copper.
Avocado is a great source of healthy monounsaturated fat; This helps to keep your cholesterol levels on a healthy range of more 'good' HDL cholesterol and less 'bad' LDL cholesterol and triglycerides. Avocados are also a great source of potassium to keep your blood pressure at a healthy level. 
Roast pumpkin will keep your immune system working well as a great source of vitamin A.
Coriander does not only add taste but, like all the vegetables and fruit in this recipe are also a source of antioxidants. Antioxidants help to fight off free radicals which can cause damage and disease to the cells of your body.
Black beans are a pantry staple which are a source of prebiotics. This feed the probiotics or good bacteria in your gut which support optimal organ health, immune system function and metabolism. Black beans are also a source of zinc which is important for wound healing and skin health and is a non-animal source of iron, needed to transport oxygen around your body.
This is a clear winner for this month's recipe of the month.
Recipe of the Month: May
Hummus, pan-fried garlic beans recipe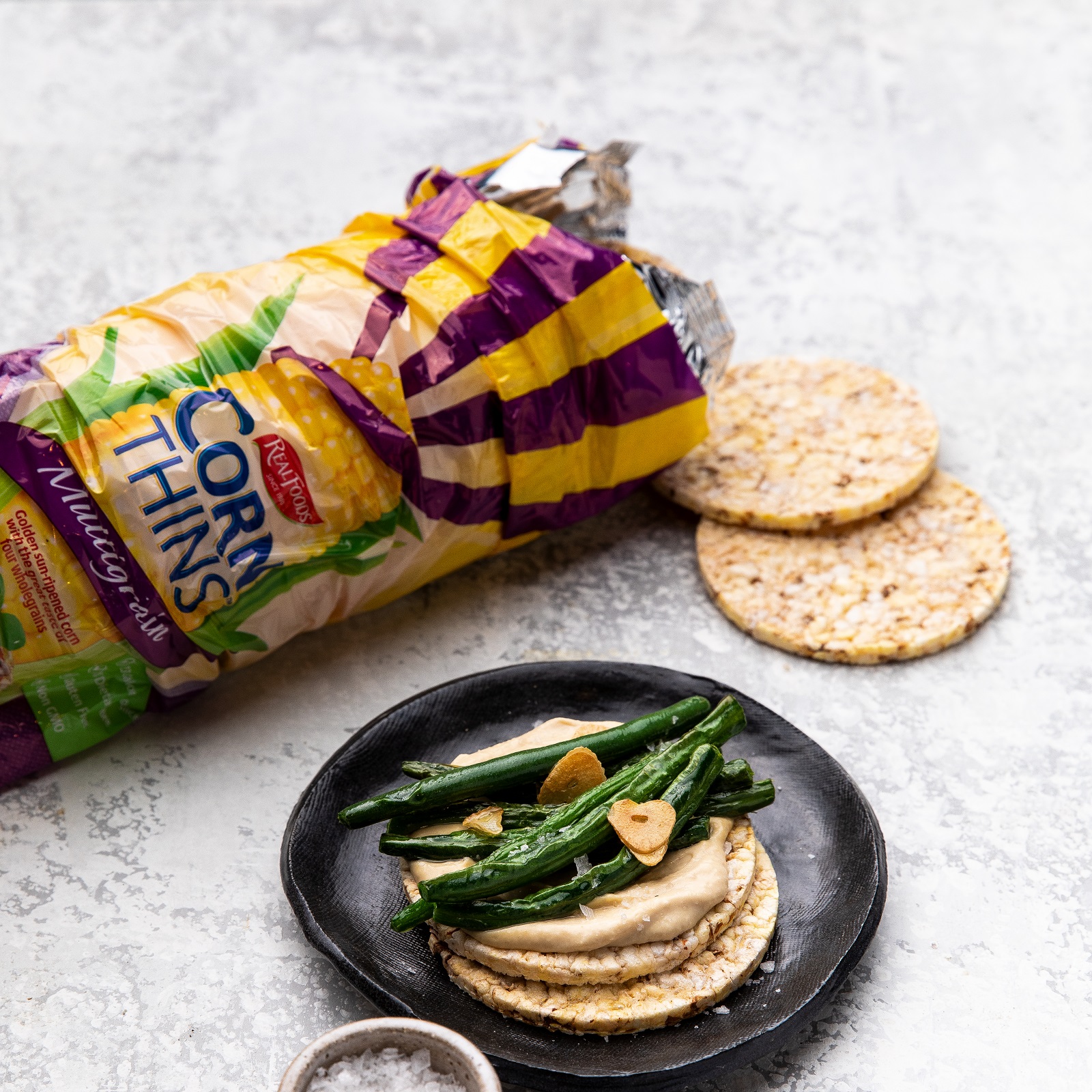 https://www.cornthins.com/en/node/57222
May's recipe of the month will take your taste buds on a culinary experience to the Middle East.
The hummus adds flavour but also manganese needed to make strong bones, assists in reducing inflammation and helps your blood to clot normally. Also, copper needed to make red blood cells and nerve cells and folate which helps to make and repair DNA.
Green beans also add more folate, but also immune optimizing vitamin A and C.
Garlic may keep the vampires away, but it can also protect your body in other ways through its immune optimizing antioxidant allicin. 
The whole grain base of CORN THINS slices add second to none flavour but also B vitamins needed for the food you eat to be converted to energy. CORN THINS slices are also a good source of magnesium which plays a role in normal energy production and normal muscle and nerve function. This delicious combination of ingredients will keep you coming back to this recipe and is deserving as a regular feature to your weekly meal plan.
Make sure you are following @cornthins_original on Instagram and Facebook so you do not miss another recipe of the month ever again! There are also loads of other recipes to try on the Corn Thins website https://www.cornthins.com