Recipe Image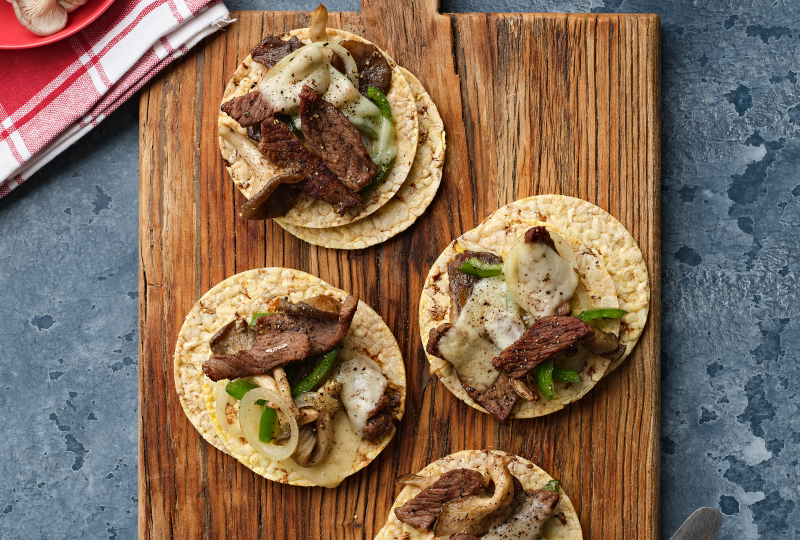 Directions
In a large saute pan add 1 Tbs of oil, capsicum, mushroom & onion. Cook on a medium heat till onion softens & goes slightly brown. Remove from heat and put into a separate bowl. Return the pan to the stove and add another 1 - 2 Tbs of the oil. Once the oil is hot add in the steak slices, seasoning & garlic pepper, Stir while cooking to get good coverage of the seasonings onto the steak. Cook the steak pieces till well done. Once cooked, turn off the heat & return the vegetables to the pan with the seasoned, cooked steak. Mix well. Add the cheese to the steak/vegetable mix while still warm, so the cheese melts into the ingredients. Once the cheese has melted, do one gentle mix then spoon a generous amount onto each Corn Thins slice & enjoy.
Ingredients
12 -18 Corn Thins slices
800g sirloin steak (thinly sliced & cut into small bite size pieces)
2 - 3 Tbs olive oil
1/2 red capsicum (thinly sliced)
1/2 green capsicum (thinly sliced)
1/2 small red onion (thinly sliced)
1 tsp of all purpose seasoning 
1 tsp garlic pepper
150g Provolone Cheese (thinly sliced, or grated)
5 - 6 oyster mushrooms (cut into smaller bit size pieces)
Still Hungry?
 Still Hungry, then why not try something else. Check what is in your fridge or pantry, or view any of our other CORN THINS recipes for some  tasty ideas.