2021-07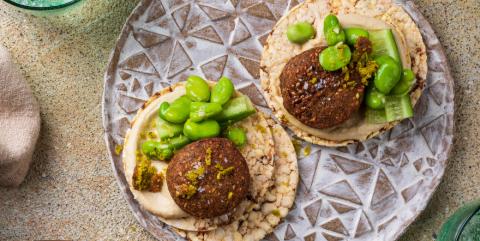 Hummus, Falafel, Cucumber and Broad Beans
Take your taste buds on a culinary journey to the Middle East. A perfect plant-based meal for those wanting to reduce the amount of meat in their diet. Hummus and falafels are rich in chickpeas which are a good source of protein as well as fibre, this combination will keep you feeling fuller for longer after the meal.
Broad beans add even more protein to this meal as well as being a good source of folate which is needed to make and repair your DNA. Broad beans are also a good source of manganese, phosphorous, magnesium and copper.
Cucumbers are a good source of fluids and will help you to meet your hydration needs during the day. Also, cucumber will help your blood pressure stay at healthy levels as a source of potassium. Lastly the star whole grain containing food in this recipe of the month is the Corn Thins slices. Each delicious corn cake provides your body with gut loving fibre as well as many different vitamins and minerals a whole grain contains. This includes B vitamins which are essential for your body to make energy from the food you eat. Also, iron and zinc which play a role in keeping your immune system working at its best. Liven up your meals this week and remove weekly boredom of the same foods and recipes by trying the recipe of the month.