2021-06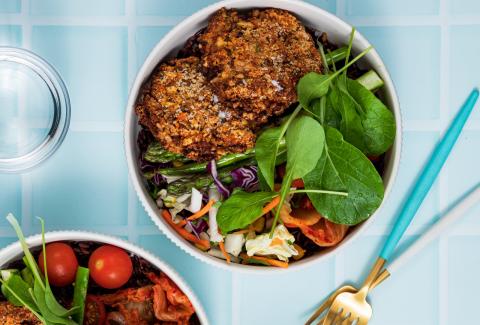 Health benefits of this recipe:
This recipe provides a matrix of health benefits. Your body will receive healthy fats from the peanut butter and extra virgin olive oil as sources of monounsaturated fat. This type of fat helps to keep your cholesterol in a healthy range of more HDL-cholesterol and less LDL-cholesterol and triglycerides. Each vegetable, wholegrain, legume, fruit, the extra virgin olive oil, and herbs supply your body with different types of antioxidants. Antioxidants help fight off free radicals which can cause damage and disease to the cells of your body. Therefore, variety in your diet is so important as not one single food can provide your body with all the nutrition it needs to stay healthy. 
The processed tomato found in the tomato paste is a great way to enjoy this fruit as processed tomato makes lycopene more bioavailable for your body to use. Lycopene is helping your heart and prostate stay healthy as well as may help reduce your risk of certain cancers. Therefore, processed foods are not the devil and in this case is more beneficial to your body's health.
The fat-soluble vitamins found in this meal will be able to be absorbed properly due to the healthy fat present in the extra virgin olive oil and peanuts. In addition to this the plant sources of iron called non-haem iron found in the egg yolk, lentils, wholegrains, herbs, and peanuts will be better absorbed due to the vitamin C present in the onion and tomato paste.
The vitamin A found in the carrot are needed for your optimal immunity, to keep your eyes working well and to give your skin a healthy glow. One study found the carotenoids were absorbed 3.8-fold higher when 3 eggs where included in the salad compared to none. The sum of the whole meal is far greater than one part.
Ingredients
28 Corn Thins slices
430g can brown lentils
1 finely chopped small onion
1 large egg lightly beaten
1.5 cups dry whole grain breadcrumbs (gluten free if possible)
2 cups cooked brown short-grain rice
2 tbs extra virgin olive oil
2 tbs 100% peanut butter
2 tbs tomato paste (recommend a variety with added herbs and garlic)
½ tsp salt
½ tsp mixed herbs
½ tsp dried basil leaves
½ cup grated carrot
½ cup finely chopped celery
Directions
Place the extra virgin olive oil and ½ cup of bread crumps to the side.

Add remaining ingredients into a large mixing bowl and combine well.

Shape the mixture into 14 burgers using ½ cup measuring cup.

Cover patties with the ½ cup of breadcrumbs set aside and put patties into the fridge for half an hour.

Place1 tablespoon of extra virgin olive oil in a non-stick frying pan and heat the oil.

Over a medium heat cook half the burgers until golden and crisp (around 5 minutes each side).

Using the second tablespoon of extra virgin olive oil repeat this process with the remaining patties.

Serve patties with Corn Thins slices as a burger bun replacement and a side of your favourite salad.

Enjoy!
Accredited Practising Dietitian