Recipe Image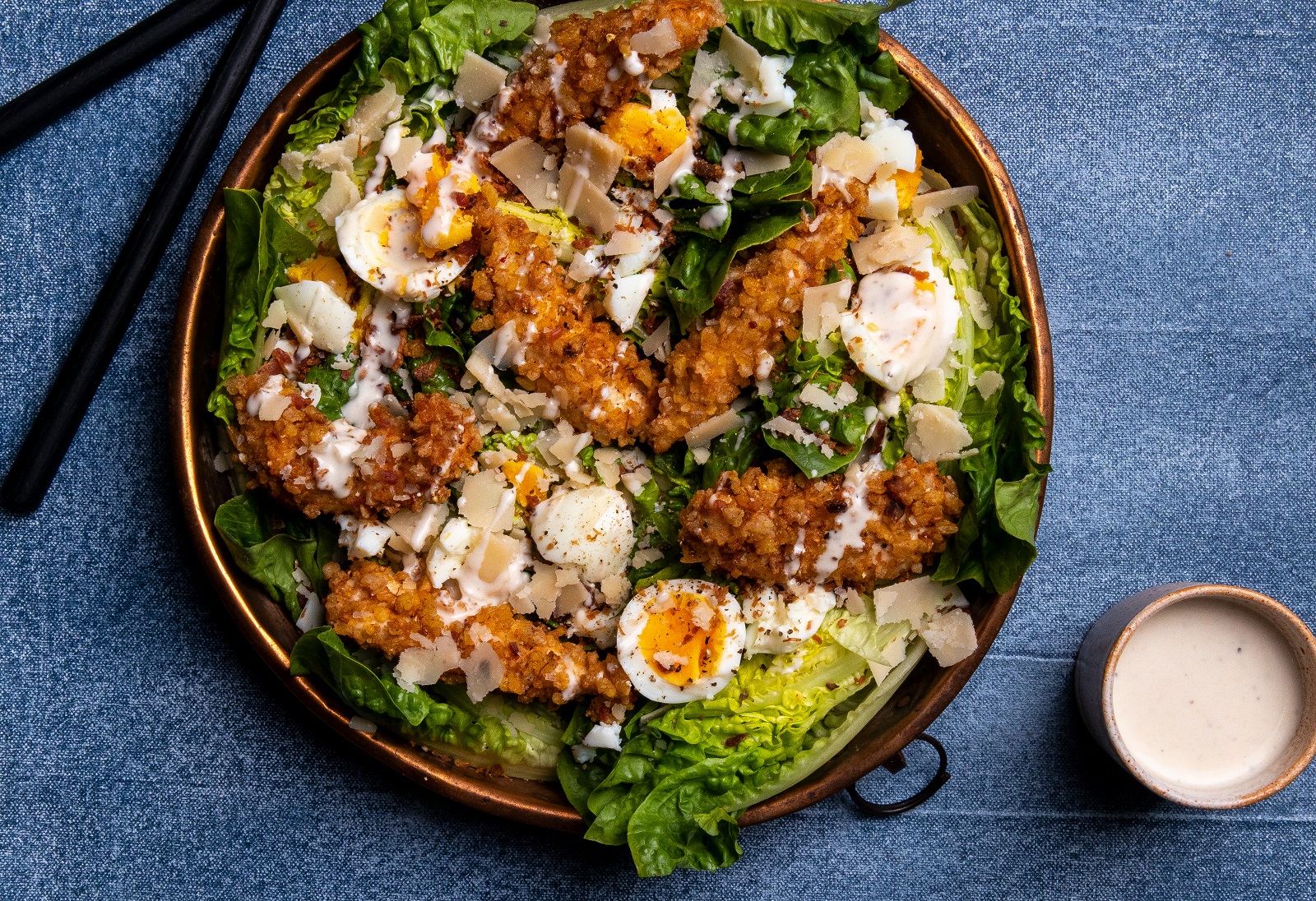 Directions
To make dressing, combine all ingredients in a blender or mini food processor and blitz until smooth.  Set aside.
Heat rice bran oil in a deep fryer or deep saucepan to medium-high heat (around 180ºC). 
On a platter arrange lettuce wedges. 
Dust chicken tenders in arrowroot flour, brushing off any excess.  Dip in egg mixture, then coat with crushed CORN THINS slices.  Deep fry chicken tenders, 3 at a time, for 5-6 mins or until golden and cooked through.  Drain on paper towel.
Arrange chicken on top of the lettuce then use your hands to roughly crumble egg over the top.  Sprinkle chopped bacon over the top then shaved parmesan.  Drizzle with dressing just before serving.
Ingredients
Crispy Chicken Caesar Salad (GF)
4 baby Cos lettuce, washed and quartered length ways
6 chicken tenderloins
½ cup arrowroot (tapioca) flour
1 egg whisked with a splash of water
6 Tasty Cheese CORN THINS slices, crushed to a rough crumb
2 eggs, boiled, peeled
4 rashers bacon, fried and finely chopped
Shaved Parmigiano-Reggiano, to serve
Rice bran oil, to deep fry
DRESSING
2 small garlic cloves, minced
3 anchovy fillets, finely chopped (optional)
2 tablespoons freshly squeezed lemon juice
1 tsp tamari (gluten free soy sauce)
1 teaspoon Dijon mustard
1 cup mayonnaise
1/2 cup freshly grated Parmigiano-Reggiano
1/4 teaspoon salt
1/4 teaspoon freshly ground black pepper
Still Hungry?
 Still Hungry, then why not try something else. Check what is in your fridge or pantry, or view any of our other CORN THINS recipes for some  tasty ideas.