Avocado, Zucchini, Cashews & Spinach Leaves
Recipe Image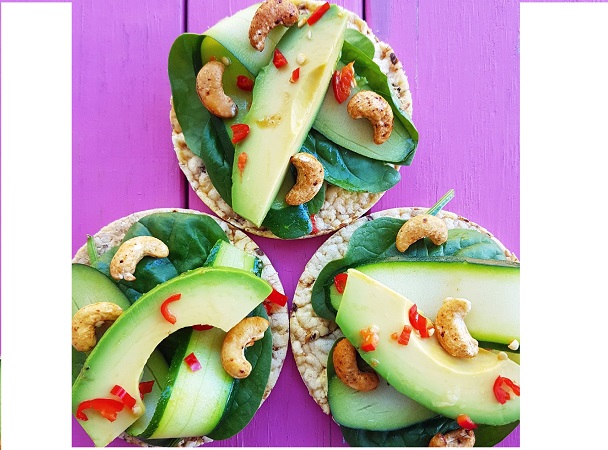 Directions
Finely dice the red chilli into small pieces.
Cut the avocado into thick segments.
Next, use a peeler to cut 3 long slices of zucchini.
To assemble your Corn Thins, put a bed of spinach on each Corn Thins slice.
Next add a slice of zucchini, followed by 1-2 avocado segments.
Finally sprinkle each slice with red chilli and cashews.
Fibre: The addition of zucchini, avocado, cashews, chilli and spinach increases the total fibre intake of this meal to 7.0g.
Ingredients
3 Soy, Linseed & Chia CORN THINS slices
½ an avocado
1 red chilli (if desired)
½ cup spinach
3 slices of zucchini 
¼ cup cashews.
Still Hungry?
 Still Hungry, then why not try something else. Check what is in your fridge or pantry, or view any of our other CORN THINS recipes for some  tasty ideas.