Spiced Chickpea, Sour Cream, Mango Chutney & Spring Onion
Recipe Image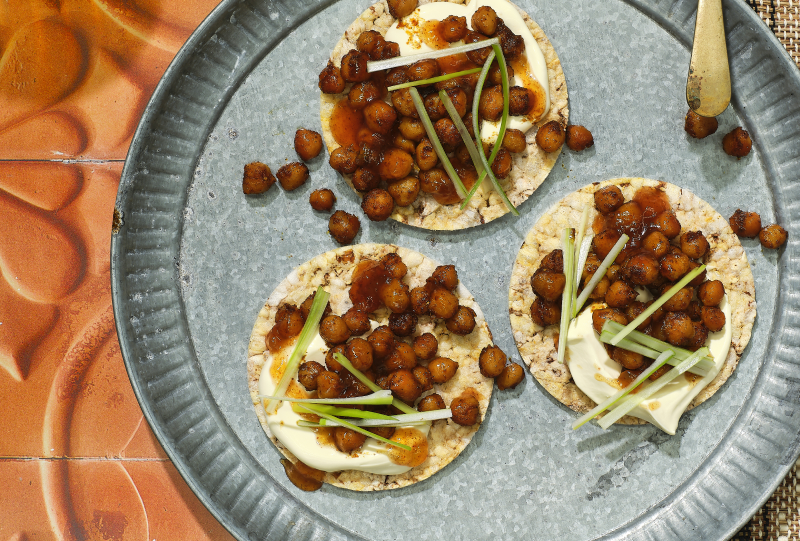 Recipe Time
65 mins (including making Spicy Roasted Chickpeas)
Directions
Make the Spicy Roasted Chickpeas following the recipe from Tasty.co   Spicy Roasted Chickpea Recipe This will take about an hr, so can be made well before & stored in the fridge till needed. This recipe is enough for about 3 serves (using 9 CORN THINs slices)
Spread your desired amount of sour cream over each CORN THINS slice, then spoon on the spicy roasted chickpeas. Use a teaspoon to drizzle on some mango chutney, then finish off with a small amount of shredded spring onion. Season with salt & pepper...or other spices if desired.
Ingredients
Spicy Roasted Chickpea ingredients
15 oz chickpeas(425 g), 1 can, drained and rinsed
1 tablespoon olive oil
1 teaspoon ground cumin
1 teaspoon chili powder
½ teaspoon cayenne pepper
½ teaspoon salt
Other Ingredients
9 CORN THINS slices
4 - 5 Tbsp Sour Cream
6-9 Tsp Mango chutney
30g Spring Onion (thinly sliced)
Seasoning, as desired
Still Hungry?
 Still Hungry, then why not try something else. Check what is in your fridge or pantry, or view any of our other CORN THINS recipes for some  tasty ideas.