Recipe Image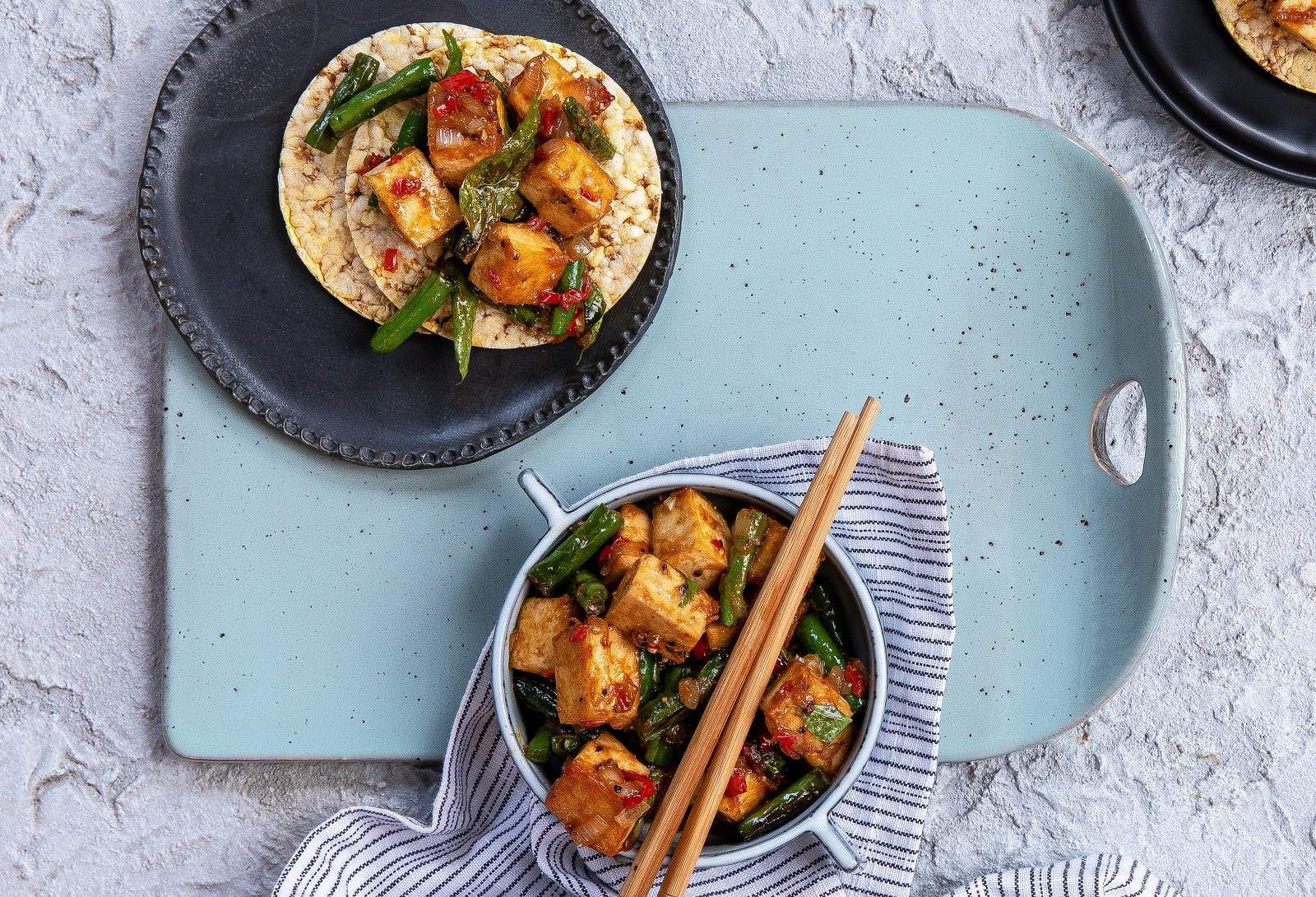 Directions
Pat the tofu dry with paper towels.  Cut into 2cm cubes.
Heat oil in a large wok or frying pan. Stir fry tofu on high heat for 2 minutes, in batches if needed, until just golden. Transfer to a clean bowl and set aside.
FOR THE SAUCE
Peel and finely dice the shallots, garlic. Finely chop the red chillis, leave seeds in. Pick leaves off the curry sprigs.
In a medium bowl or jug mix together the peppercorns, miso paste, dried shrimp in oil, oyster sauce, ketjap manis and soy sauce to form a paste.
Return wok or large frying pan to medium-high heat and add butter. When melted, add in the chopped shallots, garlic, chilli and curry leaves. Stir fry for 1-2 minutes or until fragrant and the shallots turn translucent.
Add the soy sauce paste, stir, then add in the cooked tofu. Mix well to combine. Add stock and cook for 1-2 mins.
Mix tapioca flour with water and drizzle over the sauce, stirring quickly for the sauce to thicken. Remove from heat and serve.
Now the easy part - eat with CORN THINS slices for the added crunch & popcorn taste.
Ingredients
500g extra firm tofu
CORN THINS slices
SAUCE
3 small French (or golden) shallots
3 medium garlic cloves
3-5 red long chillies
3 sprigs fresh curry leaves (1 handful leaves)
1 tablespoon freshly ground black peppercorns
1 tablespoon shiro miso paste (or mashed preserved yellow beans)
1 tablespoon dried baby shrimp preserved in oil
1 tablespoon oyster sauce
1 tablespoon ketjap manis
1 tablespoon light soy sauce
50 g unsalted butter
1/2 cup chicken stock
1 tablespoon tapioca flour
1 tablespoon water
Still Hungry?
 Still Hungry, then why not try something else. Check what is in your fridge or pantry, or view any of our other CORN THINS recipes for some  tasty ideas.