Recipe Image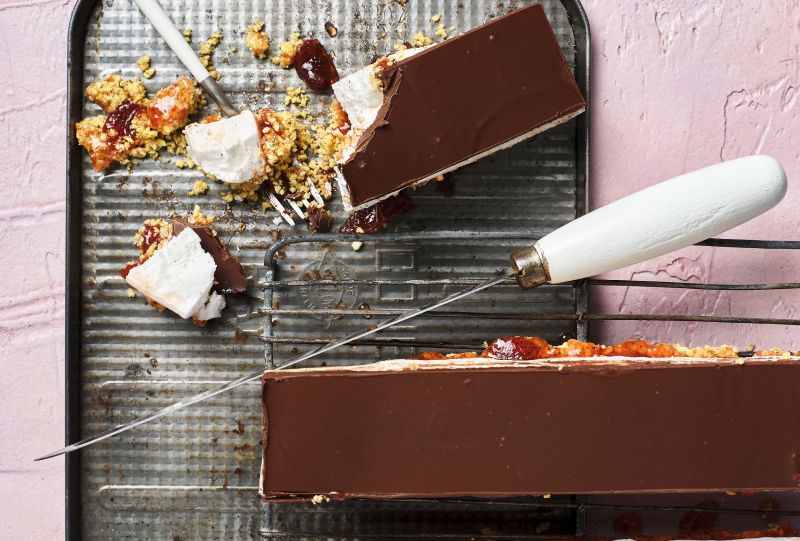 Recipe Time
60 mins (including cooling)
Directions
Grease and line the base and sides of a 23x33cm rectangular baking tin. 
Roughly break up the Corn Thins slices and place into a food processor.  Blitz to a very fine crumb then add melted butter and process until the mixture becomes sticky.  Pour into the prepared tin, smooth the surface using a spatula, then use a flat-bottomed glass to press the mixture, compacting it into the tin.  Freeze for 10 mins.
Spread the jam over the Corn Thins crumb layer then refrigerate as you prepare the marshmallow.
Combine caster sugar in a saucepan with 165ml water.  Stir over a medium heat until the sugar has completely dissolved.
Whisk the gelatine with 165ml cold water then add to the hot sugar mixture and stir until the gelatine dissolves.  Pour into the bowl of a stand mixer fitted with whisk attachment then allow to cool to room temperature.
Once the mixture has cooled, whisk on HIGH for 8-10 mins until the marshmallow is thick and holds a medium-stiff peak.  Spread over the jam mixture, smoothing the surface, then refrigerate until set.
Melt the chocolate and pour over the set marshmallow layer, refrigerate until the chocolate is hard.  Use a very sharp, hot knife to cut the slice into pieces.
Ingredients
1 x 150g packet Corn Thins Original
90g butter, melted
500g store-bought raspberry jam
330g caster sugar
2 tbsp gelatine powder
1 tsp vanilla extract
450g dark chocolate melts
Still Hungry?
 Still Hungry, then why not try something else. Check what is in your fridge or pantry, or view any of our other CORN THINS recipes for some  tasty ideas.