Recipe Image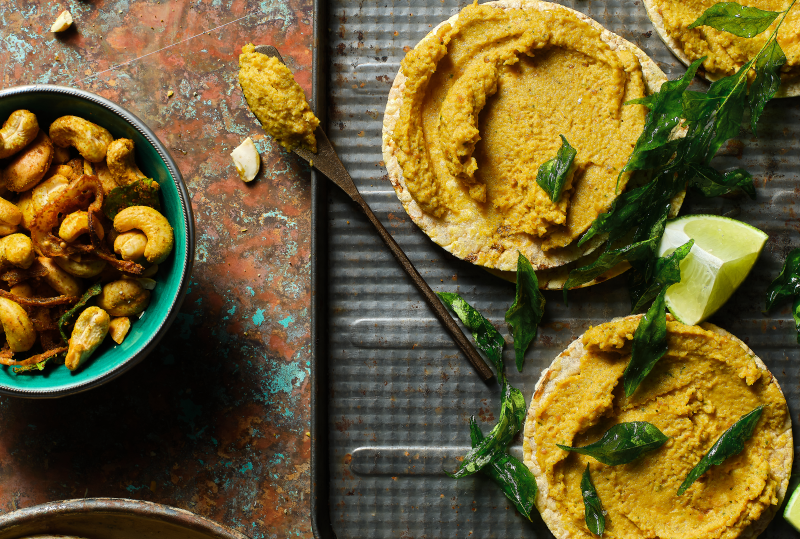 Directions
Preheat oven to 160ºC fan. 
Melt coconut oil in a medium, oven-safe frypan over medium heat.  Once the oil is hot, add mustard seeds and shallot and saute until shallot starts to color.
Add remaining spices and cook, stirring, for 1 min until fragrant.  Add cashews and stir very well to completely coat.  Transfer the frypan to oven and cook for 15-20 mins until the shallot is crispy. 
Transfer mixture to a food processor, blend on high, adding small drizzles of water as the motor runs, until the mixture becomes a smooth paste.
Generously spread onto Corn Thins slices to serve.
Ingredients
2 tbsp coconut oil
1 tsp mustard seeds
1 large shallot, thinly sliced
1 tsp chilli powder
1 tsp ground coriander
1 tsp ground cumin
1 tsp turmeric
½ tsp garlic powder
12 curry leaves
Pinch sea salt and freshly cracked black pepper
200g raw cashew nuts
10 Corn Thins Original slices
Still Hungry?
 Still Hungry, then why not try something else. Check what is in your fridge or pantry, or view any of our other CORN THINS recipes for some  tasty ideas.