Lemon Linguine with Corn Thins Pangrattato
Recipe Image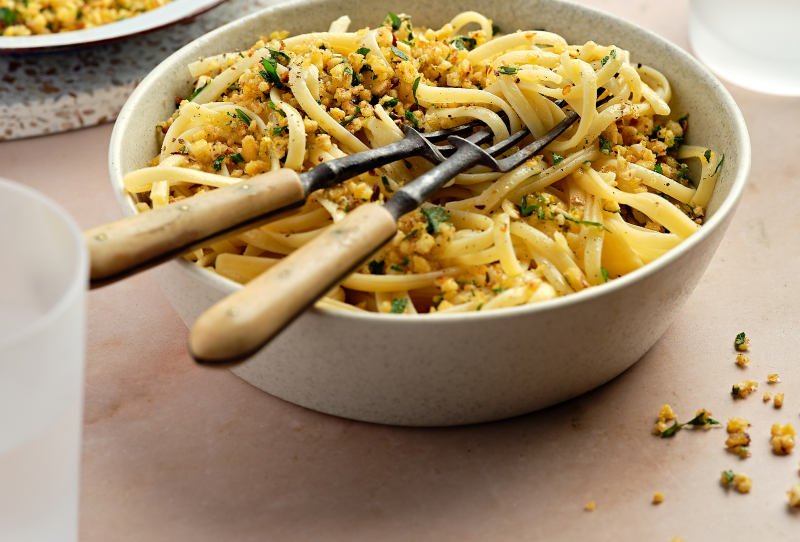 Directions
To make pangrattato, heat olive oil in a large frypan over medium heat.  Add crushed Corn Thins slices and chilli flakes and cook, stirring, for 3-4 mins until crispy and the oil has absorbed.  Add garlic and lemon zest, season generously then continue to cook, stirring, for 2 mins until fragrant.  Remove from heat and stir through parsley. 
Bring a large saucepan of generously salted water to the boil.  Cook linguine according to packet instructions.  Drain, reserving 80ml of the cooking water.  Return drained pasta to the pan, add reserved water, lemon juice and a splash of olive oil, toss to coat.
Divide pasta between four bowls and top with Corn Thins pangratatto and parmesan (if using) to serve.
Ingredients
400g gluten free linguine
Sea salt
Juice of 1 lemon
Extra virgin olive oil
Parmesan, to serve (optional)
CORN THINS PANGRATTATO
80ml extra virgin olive oil
5 Original Corn Thins slices, crushed into a fine crumb
1 tsp dried chilli flakes
6 cloves garlic, finely chopped
Finely grated zest of 1 lemon
2 tbsp chopped parsley leaves
Sea salt and freshly cracked black pepper
Still Hungry?
 Still Hungry, then why not try something else. Check what is in your fridge or pantry, or view any of our other CORN THINS recipes for some  tasty ideas.