Chicken & Cheese Mexican Bean Mix
Recipe Image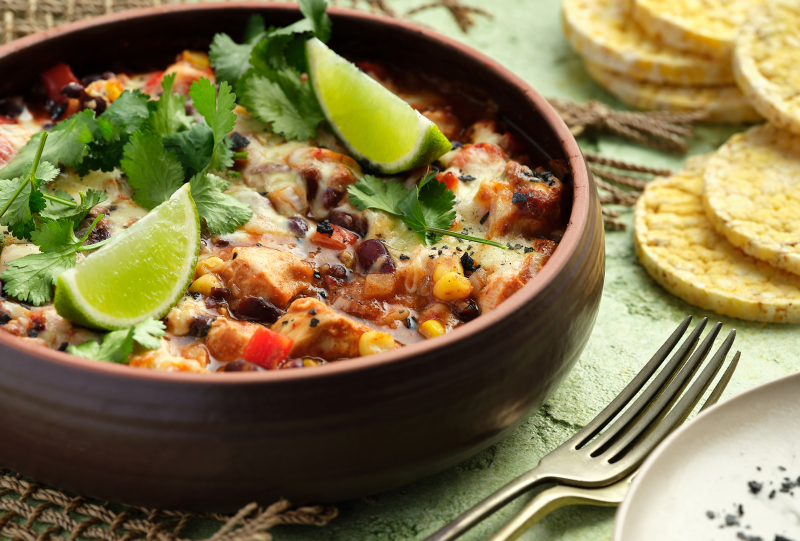 Directions
Preheat the oven to 220°C/430 F (200°C/390 F fan-forced).

 In a large oven safe dish add the canned Mexican beans, corn, onion and capsicum.

Take the chicken pieces and press down into the beans mix until covered by the sauce. Cover foil.

Bake for 20 minutes.

Remove foil and sprinkle cheese over the mix and then bake for an additional 5-10 minutes until the chicken is fully cooked and cheese is golden brown.

Divide mixture between two plates and serve with a side of 5-6 Corn Thins slices each plate.

Enjoy!
Ingredients
½ cup drained sweet, tinned corn.
1 diced onion
1 diced capsicum
1 can (420g) of Mexican flavoured baked beans
200g of skinless, excess fat removed, chicken breast cut into bite sized pieces.
½ cup of reduced fat, grated, mozzarella cheese.
10-12 Corn Thins slices
Accredited Practising Dietitian
Still Hungry?
 Still Hungry, then why not try something else. Check what is in your fridge or pantry, or view any of our other CORN THINS recipes for some  tasty ideas.