Peanut & Miso Caramel CORN THINS Sandwich
Recipe Image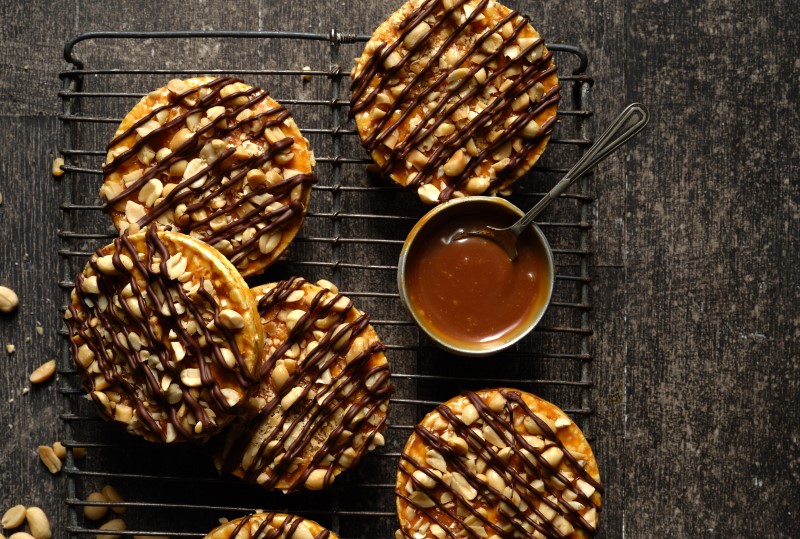 Recipe Time
30mins plus cooling
Directions
To make the miso caramel, add sugar to a medium, heavy-based saucepan.  Stir constantly until sugar has completely dissolved then remove from heat, whisk in butter (be careful as it will spit) then pour in thickened cream in a slow, steady stream, whisking constantly.  Whisk in miso and salt then allow to cool to room temperature.
Dip each Corn Thins slice in caramel and sprinkle one side of each with peanuts.  Arrange on two trays lined with baking paper and freeze for at least 1 hour.
Sandwich together the Corn Thins slices (non-peanut sides press together).  Melt chocolate and drizzle over the top of each sandwich.  Allow chocolate to set before serving.
Ingredients
12 Original Corn Thins slices
260g caster sugar
90g butter, cubed
125ml thickened cream
1 tbsp shiro (white) miso
½ tsp sea salt
2 cups salted, roasted peanuts
1 packet dark chocolate melts
Still Hungry?
 Still Hungry, then why not try something else. Check what is in your fridge or pantry, or view any of our other CORN THINS recipes for some  tasty ideas.