Mango and Pineapple Slice
2022-04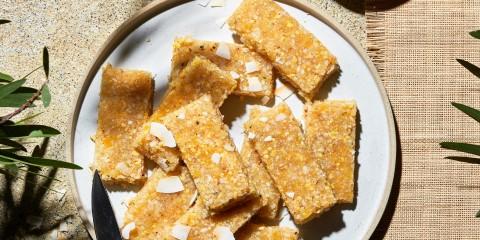 Health Benefits of This Recipe
The power of food is amazing to be able to work together to increase the health benefits which your body receives. Pineapple contains an enzyme called bromelain which helps your body metabolise and use protein found in the macadamia nuts and hemp seeds. The macadamia nuts with their fat and protein content will help to lower the glycemic load. This type of fat in macadamia nuts called monounsaturated fat promotes a healthy heart and cholesterol levels. Both the fibre in the Corn Thins slices, hemp seeds and the coconut flakes add to further decrease the glycemic load.
Each fruit, nut and whole grain provide your body with different antioxidants. When you include more variety in your diet this allows your body to have greater protection from a greater variety of antioxidants.
Ingredients 
35g of CORN THINS slices
85g roughly chopped dried mango
85g roughly chopped pineapple
1 cup coconut flakes
1 tablespoon hemp seeds
2 cups macadamia nuts
⅓ cup melted coconut oil
1¼ teaspoons salt
Directions
Add the CORN THINS slices, pineapple and mango into a food processor and process until fine consistency.

Add the nuts and pulse until coarsely chopped.

Add the coconut flakes, oil, hemp seeds, and salt.

Pulse until the mixture becomes a rough purée consistency.

Transfer mixture to a plastic wrap-lined rimmed baking sheet.

Top with another piece of plastic wrap and press to a 9x6" rectangle.

Chill the mixture until firm.

Cut into 12 bars.
Accredited Practising Dietitian