Recipe Image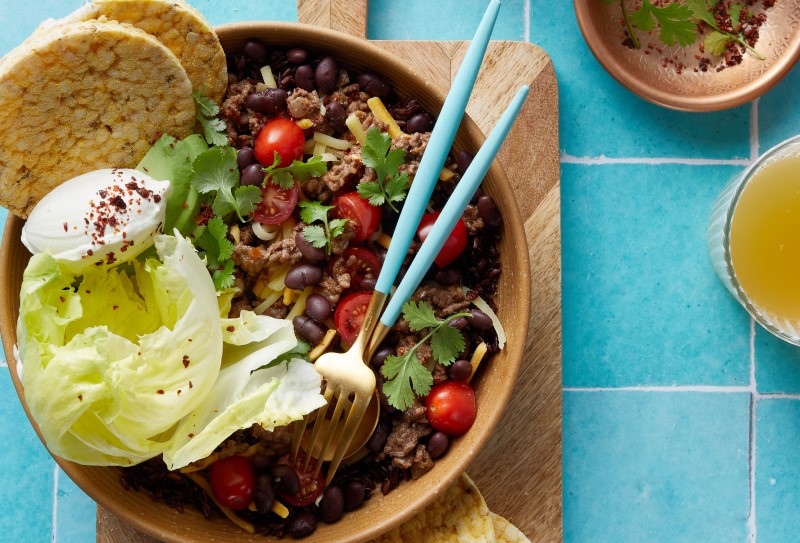 Directions
Cook the rice according to packet instructions.  Divide between 4 bowls.
Heat the oil in a large frypan over medium heat.  Add onion and cook 4-5 mins until softened, add mince and fry until browned.  Add taco seasoning and ¼ cup water, stir, cooking, until the sauce thickens.  Divide mince between bowls and sprinkle over cheese.
Divide cherry tomatoes and black beans amongst the bowls.  Quarter the avocado and slice, dividing between bowls.  Tuck 2 Corn Thins slices into each bowl then top with iceberg lettuce, coriander and a generous spoon of sour cream.  Sprinkle with chilli flakes, if using.
Ingredients
1 x 250g packet microwavable black rice
1 tbsp olive oil
1 brown onion, finely chopped
500g extra lean beef mince
2 tbsp taco seasoning
1 cup grated cheese (we used Mexican blend)
1 punnet cherry tomatoes, halved
½ of 420g tin black beans, rinsed and drained
1 avocado
8 x Corn Thins Tasty Cheese slices
Iceberg lettuce, coriander and sour cream, to serve
Chilli flakes, to serve (optional)
Still Hungry?
 Still Hungry, then why not try something else. Check what is in your fridge or pantry, or view any of our other CORN THINS recipes for some  tasty ideas.