Chargrilled Eggplant, BBQ Chicken, Apricot & Pistachio
Recipe Image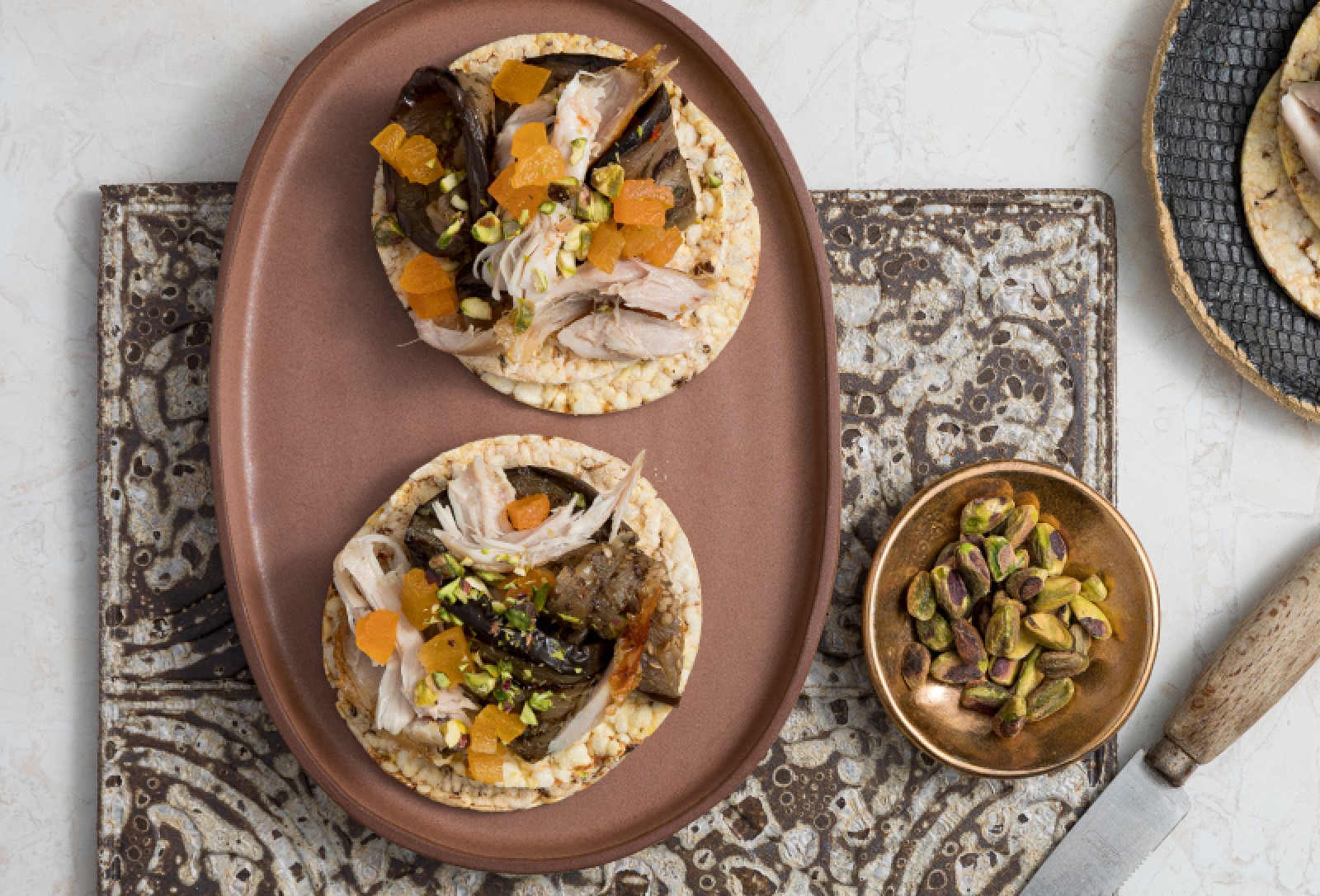 Recipe Time
80 mins (including making grilled eggplant, which takes 75mins)
Directions
To make grilled eggplant
Cut off the stem end of the eggplant. Cut the eggplant into 1.5 - 2cm slices. Make a brine solution by dissolving the salt into the warm water. Once the salt is fully dissolved add in the remaining (cold) water. Place eggplant slices into the brine solution & soak for at least 30mins, but ideally an hr. Ensure the eggplant slices are underwater, so weight down with cutlery or a plate. Once the eggplant has finished soaking remove it from the brine & pat dry with a paper towel. Brush both sides of the eggplant with olive oil & sprinkle with additional salt (if desired)
Heat a grill to medium to high heat. You can use a frypan on the stove if you don't have a grill. Place slices of eggplant on the grill and cook for about 5 mins, or until grill marks show, then turn the slices over & cook for a further 5 mins, or till the eggplant is tender. Put aside to cool a bit.
Layer eggplant & BBQ chicken onto each CORN THINS slice, then sprinkle on apricot & pistachios.
Any unused grilled eggplant can be kept in a closed container in the fridge for up to a week.
Ingredients
3 CORN THINS slices
1 Medium eggplant
1 Tbsp fine sea salt
1/3 cup warm water
2-3 cups cold water
1 Tbsp olive oil
Leftover BBQ chicken
1 Apricot (finely diced)
Pistachios (crushed)
Still Hungry?
 Still Hungry, then why not try something else. Check what is in your fridge or pantry, or view any of our other CORN THINS recipes for some  tasty ideas.