2021-06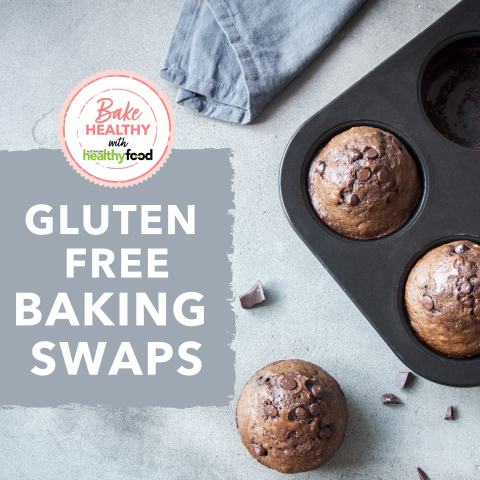 GLUTEN-FREE BAKING SWAPS
Just discovered you or a family member have coeliac disease? It's easier than you think to give your favourite dishes a gluten-free makeover! Healthy Food Guide experts share their top tips.
FLOUR SWAPS
Did you know you can use rice as a flour substitute? Well you do now! For an easy, clever replacement for shortcrust pastry, fold one beaten egg into three cups of cooked white rice, season with salt and pepper and press into a quiche or flan dish. 
You can also make your own gluten-free plain flour by blending the following: 2 parts fine rice flour, 1 part cornflour and 1 part soy flour. To make it self-raising, add 2 teaspoons of gluten-free baking powder.
BREADCRUMB SWAPS
You can make your own gluten-free breadcrumbs from gluten-free bread, but you can also use quinoa, lupin flakes or polenta to crumb fish or chicken instead. When you need a little crispy crunch to top off a pot pie, fruit crumble or tuna casserole, try crumbling Real Foods Corn Thins® Multigrain to make a quick and easy topping with the added benefit of fibre.
YEAST SWAPS
When a recipe calls for yeast, it may be safer to use a yeast alternative because not all commercially available yeasts are gluten-free. Mixing baking soda with an acid like lemon juice can help make gluten-free dough rise. You can use lemon juice, buttermilk, or milk combined with equal amounts of vinegar as your acid.
BAKED PASTA SWAPS
Keen to bake a lasagne? Gluten-free lasagne sheets do exist, but if you can't find them at your supermarket, use rice paper sheets as an alternative. Soak the dried sheets in hot water until softened, then blot dry with a tea towel. Use three rice sheets per lasagne layer.
 
If you're making a baked rice dish, remember that while risoni may look like rice, it's actually wheat-based pasta and not gluten free. Replace risoni with long-grain brown rice instead.
 
Supermarkets now stock a range of legume-based, gluten-free pastas that are also high in fibre and protein. So, if you have your heart set on making a penne pasta bake, you can now have your pasta and eat it, too!
PIZZA SWAPS
If you want to ensure your pizza base is gluten-free, make it yourself! Don't want to make gluten-free dough? No problem! Gluten-free wraps are perfect to use as a thin and crispy pizza base. Plus they're lighter in overall calories than traditional pizza dough, so there's room for more slices on your plate.
Some traditional pizza toppings are not gluten-free, so always check ingredients lists on packaging before buying. To be on the safe side, use unprocessed toppings, such as sliced mushrooms, red onions, capsicums, tomatoes and herbs, that you can prepare yourself.