Enjoy Corn Thins® Products for Youthful Skin
2020-12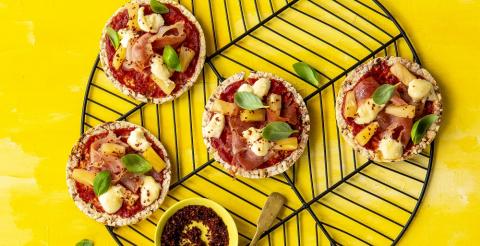 When you enjoy one of the delicious varieties of Corn Thins® you may not think about how it is helping you to have healthy, glowing skin. Corn Thins® products contain fibre which feeds the good bacteria in your gut called prebiotics. Research has shown that a diet which is adequate in both probiotics and the prebiotics to feed these healthy bacteria improves the health of your skin.
By feeding the probiotics enough of the food they need to survive they send signals and release factors which can improve the elasticity of your skin, decrease the appearance of wrinkles, and reduce dry skin. How probiotics seem to improve the health of your skin is by reducing inflammation in your body by directly influencing the inflammation pathway.
One factor which induces an inflammatory response in your body is called C-reactive protein. Research suggested that people who include more fibre in their diet through foods like fruits, vegetables, nuts, seeds, and whole grains including whole grain contain foods like Corn Thins® slices have lower C-reactive protein in their body.
A 2017 review found that subjects which suffered from atopic dermatitis and psoriasis had a different ratio of good to bad types of bacteria. 70% of your immune cells and consequently your immune function is determined by your gut. Your immune function impacts the health of all the tissues in your body including your skin.
So why not include Corn Thins® slices in one of the many opportunities throughout your day? You can substitute oats for crushed Rice Thins™ in yoghurt and topped with berries and cinnamon. Or at lunch swap bread for a Corn Thins® sandwich which will add delicious crunch and variety to the typical Sandwich. Or at dinner try Corn Thins® pizza! Simply swap the traditional pizza base with a few Corn Thins® slices. These are also a great idea for when you have friends over a pizza night. Everyone can make their own pizza, and this means 100% happy friends for the variety of pizza.
Take home message: There are endless reasons to enjoy whole grain containing foods like Corn Thins® slices. Youthful, glowing skin adds one more reason to support continued enjoyment of these delicious cakes.