Top Tips to Healthy Entertaining and Socialising
2020-07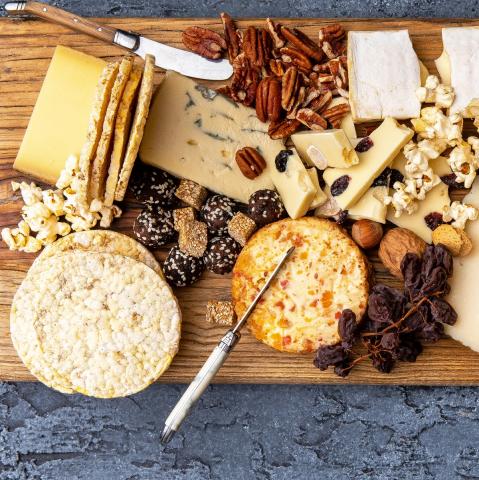 Having a social life can often mean foods and drinks which are rich in energy but not much else. Social connection is a vital component of health and mental wellness. The good news is there are ways to accommodate both mental wellness and nutrition.
If you are the one hosting it is a lot easier to decide what to serve. If you are a guest, remember that bringing a plate is also a great way to add a choice which is better for your health. Here are some ideas:
Serve a spread of a mixture of cut up vegetable sticks, cheese, Corn Thins™ Original or RICE THINS™ Wholegrain cakes and dips.

Try fruit kabab sticks with strawberries, melon, gapes, banana and on top something a little sweet like a marshmallow or drizzle melted dark chocolate around the fruit.

Try making your own veggie chips! Ideas to use could be carrot, parsnip, sweet potato, zucchini, potato or kale leaves.

Instead of serving only alcohol and soft drinks why not try fruit infused water. This can be made using either still or sparkling water.
If you are eating out, you are more restricted but there are still ways you can keep your health in mind. Try these tips:
Check out the menu in advance to see what the best selections are. This will lead you to a better choice at the time rather than ordering what everyone else may be selecting.

Look for words liked grilled or steamed and stay away from choices which are fried or deep fried.

Remember you can always order an entrée as a main or share a main with a friend.

If possible, order a salad on the side or a serve of vegetables instead of chips. Chips, although technically from a vegetable, will not add to your recommended daily servings of vegetables after being deep fried.
Meeting for a coffee is a common way to socialise. Here are some key tips to keep the calories in your drink down while still allowing you to enjoy the experience of meeting up with friends:
You are not obliged to order a large size. Having a smaller sized drink may encourage you to be more mindful and enjoy each sip more than if you are taking large sips.

Try low or no fat milk over full cream which is double the amount of energy.

Mind your sweetener. If possible, try a natural sweetener like stevia over sugar.

Say no to the syrups and cream. No need to explain this one.

Most cafes are fine if you have your own snack with you. Try enjoying 2-3 Corn Thins™ Original or RICE THINS™ Wholegrain cakes with a tablespoon or two of 100% peanut butter or some cheese with a banana. The combination of whole grains which contain fibre and protein will help to keep you feeling fuller for longer.
Take home message: Entertaining and socialising is vital for mental wellness. The good news is there is no need to compromise on your nutrition if you use these easy tips. Who says that you cannot make a cake and eat it too?