Zucchini Schnitzel, Rocket, Bocconcini, Sundried Tomato & Basil
Recipe Image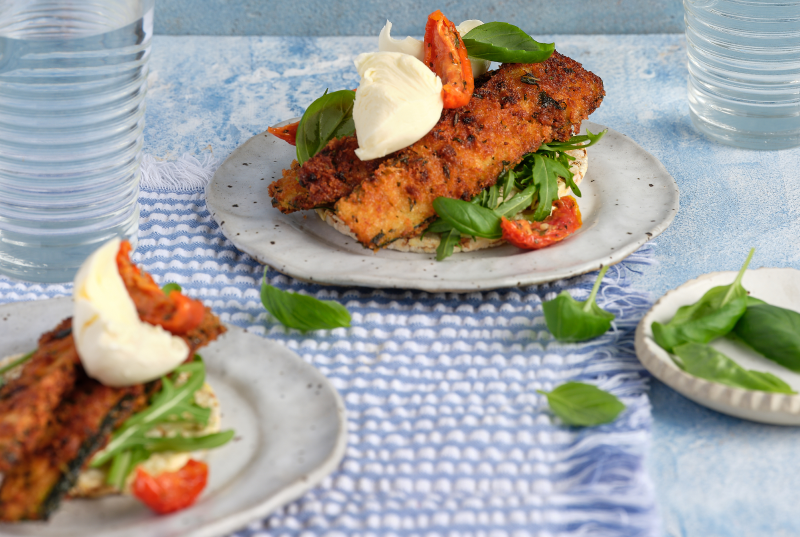 Directions
To make the zucchini schnitzel place the CORN THINS flour, crumb & egg into different bowl. Then one after another dip the zucchini slices first in the CORN THINS flour (shake off excess flour), then the egg, then the CORN THINS crumb. You may need to press the zucchini down to ensure the crumb sticks well. Melt some butter in a non stick frying pan, then cook the coated zucchini in batches. Cook using a medium heat, with each side of the crumbed zucchini taking 2-3 mins. Once golden brown transfer to a plate lined with some paper towels.
Once the zucchini schnitzel has been made and cooled down a bit, these can be added across each CORN THINS slice, then topped with rocket, sundried tomato, a few basil leaves & the bocconcini slices. Season with salt & pepper.
Ingredients
For Zucchini Schnitzel
75g of CORN THINS Tasty Cheese slices (ground to a course crumb, like bread crumbs)
75g of CORN THINS  Tasty Cheese slices (ground to a fine flour)
2 large eggs (lightly whisked)
4 Medium zucchinis (sliced horizontally, about 3 slices per zucchini, after ends sliced off)
Other Ingredients
8 CORN THINS slices
4-6 Bocconcini balls (sliced)
Rocket
Sundried tomato
Basil
Still Hungry?
Still Hungry, then why not try something else. Check what is in your fridge or pantry, or view any of our other CORN THINS recipes for some  tasty ideas.