2020-04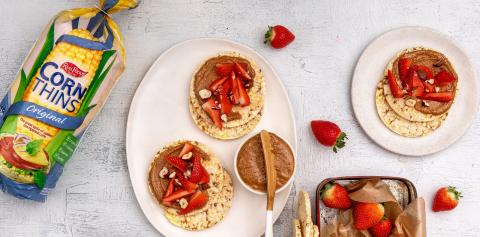 Are you stuck for healthy snack ideas which your child will actually eat? Below are 10 easy delicious and nutritious snack ideas which will keep hunger tamed between meals.
1.Cheese Cubes with a side of fruit and veggie sticks – Cut 40g of cheddar cheese into cubes and side with your child's favourite fruits and/or some carrot, celery, capsicum and celery sticks.
2. Apple Slices with Almond Butter – Slice 1 apple and top with 1-2 tablespoons of almond butter to each slice.
3. Avocado and cottage cheese on Corn Thins® Original slices- Take 2 Corn Thins® slices and top with ¼ or 50g of mashed avocado and add 1-2 tablespoons of cottage cheese. Optional crushed basil to top.
4. Hard-boiled Egg– Boil an egg, peel shell and slice to top 1-2 RICE THINS™ Whole grain slices. Side with some crunchy vegetable sticks like capsicum or celery.
5. Cottage Cheese and banana - Combine half a cup of cottage cheese with 1 sliced banana on two Whole Grain Thins™ Ancient Grains slices. Option to add a hint of cinnamon to sweeten on top.
6. Bean and Cheese Delight - Add a small can of no added salt and sugar baked beans with 40g of shredded cheddar cheese to a microwave safe bowl and cook until heated. Top on 2 RICE THINS Whole grain slices and serve.
7. Peanut Butter & Banana Wholegrain Wrap - Spread 2 tablespoons of 100% peanut butter on a whole grain wrap and top with sliced banana and a teaspoon of cinnamon.
8. Tuna and celery with Corn Thins® - Add 95g of tuna in spring water with and 2 cups of celery served on top of 1-2 Corn Thins® slices.
9. Roasted Chickpeas - Take a can of rinsed and drained chickpeas, toss with 2 teaspoons of extra virgin olive oil and bake for 20 minutes at 400 degrees Celsius or until cooked. Take out of the oven and dust with your child's favourite seasoning such as paprika, turmeric, chili powder or pepper flakes.
10. Trail mix –  Combine 15g of air popped corn with 30g of unsalted nut mix. Separate mix into small bags for ease. Add a small piece of fruit on the side like a kiwi, peach or plum.